Welcome to K9BFF! Thank you for visiting our website and for your interest in rescue and adoption. Through no fault of their own, many dogs find themselves in shelters or with guardians who can no longer care for them. We believe each dog is special and deserves to be cherished and protected. We are dedicated to helping find these loyal companions a loving and permanent home, and a second chance at life.

We hope you will find your new canine best friend here. If we don't have the dog you're looking for, there are other rescue groups with whom we work and recommend (Helpful Info). Please NEVER purchase a pet from the internet or a pet store, as these dogs are born and bred in puppy mills where they live in horrible and unsanitary conditions, and often pass on genetic problems from generation to generation (Why Rescue?).

We also hope you'll find some useful information and answers to many of your questions. Please let us know if we can be of further assistance (Contact Us).

To adopt one of our dogs, the first step is to submit an Adoption Application (Adopt).

Our adoption fee is $300 for most dogs, which covers vet check (and treatment if necessary), age-appropriate vaccinations*, spay/neuter*, heartworm check, microchip, and grooming; all of our dogs are de-wormed, de-flea'd, and come with a collar, leash, and ID tag. (*not applicable to every dog or if contrary to vet recommendations)

If at any time (even if years have passed), you can no longer care for and keep any animal you've adopted from K9BFF, please contact us and we will take the animal back.

When you adopt a rescue dog, you help to save two lives: the one you bring home and the one who takes its place.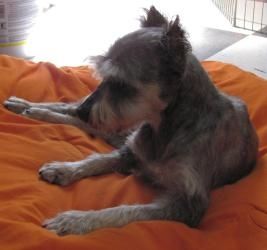 Joel was a train wreck, what else can I say. It all started when we were contacted by a northern California shelter about a senior schnauzer. They said he was about 14 years old, his teeth were broken and his lips swollen, his hind legs seemed fairly immobile, and he was probably almost blind from cataracts. He was not neutered, but their vet said he was so crippled that he was not a reproductive risk and that anesthesia may be detrimental to him at this point. His hair was a stinky matted mess, his eyes goopy and he had diarrhea. Just about everything that could possibly be wrong, was wrong.
Linda did not have any fosters at that time and was taking a break from rescue. So when she was contacted about this dog she hesitated. She hesitated because of the expenses involved, both known and unknown, his advanced age, etc. But Linda decided to rescue him anyway, to treat him as a 'hospice case,' fix everything she could to make him feel better and then just care for him until his time was up; make his final days as happy and comfortable as possible. She named him Joel.
Linda took him to her vet for an exam and to get some understanding of what was going on with him. He would not let the vet near his mouth but we guessed he had some teeth issues. So the vet put him on antibiotics and pain meds to see if this would help, along with some arthritis meds to maybe help his hips and legs. His eyes were treated with antibiotic gel to clear up any infection. He got dewormed, deflea'd, and gently groomed.  
While Linda and Debbie pondered what to do next, with no money to do x-rays or anything extravagant, they were kind of in limbo. Debbie suggested listing him on our website. Linda said, "Who would want a dog that has so many problems?" Debbie said, "Look, we have placed two-legged, three-legged, blind, and deaf dogs; we've placed bald dogs, traumatized dogs, and difficult dogs we thought no one would want. There is a person for every dog in the world, we just have to have faith." Meanwhile, Linda continued to care for Joel and he started feeling better. He was walking with more enthusiasm and seemed to be happier.

Then the miracle happened... two wonderful ladies applied to adopt Joel. The first one was in Arizona, and she told Linda about her schnauzers having the same type of spinal problems that caused a lack of fluid movement of the rear legs. hmmmm.... Then a second applicant called and said, "Oh my gosh, Joel has exactly what my little schnauzer had with her back legs." The lady explained how she gave her dog acupuncture and it helped. This kind lady was named Victoria, and she proceeded to tell her story... "My little schnauzer just passed away a day or so ago while I was here on vacation. No warning." Victoria had come to California for vacation, choosing to drive rather than fly so she could have her dog with her all the time. After her dog passed away so suddenly, she just happened to be on the internet and saw Joel. She immediately felt a connection to him, his problems, and his need for an adoptive home. She also felt that her little girl schnauzer had led her to Joel, and did so because she was meant to be the one to help Joel.
Here, in Victoria's words, is her experience with Joel...
Joel is now known as Keller - it is Irish for "little companion" and he was the perfect little companion on my ride home! He walks perfectly on a leash, rides beautifully in the car, loves all the other dogs he meets, has not had a single accident in the house or in any of the hotel rooms, and knew how to ride the elevators in the hotels!!! He must have come from a very good home, he is so well trained. I also think he may have been an urban dog - he would only pee and poop on the sidewalk and wasn't sure about walking on grass! Oh and he loves the cat - they get along just fine together!

I took him for his baseline assessment a week ago Friday and Dr. Kelly did an acupuncture treatment for his back. It seems to have helped a bit - we will keep up the treatments every week and should see good results. She was very happy with his blood work - everything looked great! He had his dental last Tuesday and was neutered at the same time. Dr. Kelly removed 13 rotten teeth and found that the infection had gotten into his jawbone so that he has osteomyletis. The osteomylitis had weakened his jawbone so much that it had broken at some point, probably just from eating. Dr. Kelly cried when she told me how much pain he must have been in for months - no wonder he wouldn't let anyone near his mouth. She wired his lower jaw and thinks it will heal fine over the next 4-6 weeks, then she'll remove the wire. We kept him on morphine-based pain meds til Friday night to make sure he didn't have any pain.

Since Sunday he has just been getting better and better! He's feisty, curious, engaged - and now that his mouth feels better he loves exploring the neighborhood. He loves running errands with me and getting to ride in the car. He loves to snuggle on the sofa. And when he doesn't see me he yips til I come find him. He also went down the stairs today for the first time - I don't think he can go up the stairs, but with some more acupuncture I bet he will be able to at some point!

The bottom line is that he is a perfect dog and I love him to the moon and back. I am so blessed to have him and we are both so blessed that you found him and had room in your heart and your home for him. I think this little hospice dog has a long life ahead of him - and I will make it the best he could possibly ever have!

Thank you again so much for being such a good person and giving both Keller and me such a wonderful gift! Vicki
I have to say that, to this day, when I repeat Joel's story, it brings tears of happiness to my eyes. This is truly what rescue is all about and those dogs that really need help are the ones we should focus on. Unfortunately, it's so expensive and the adoption fees just can't cover all the expenses, so many times rescues cannot help some of the ones that need us the most.
Joel's new mommy gave us a generous donation which was used to help a poodle named Fifi who had a similar problem. Of course ladies like Victoria are rare and just don't come along very often, but when they do... wow, miracles happen. We feel so fortunate to have had the opportunity to spend time with Joel, and to meet the wonderful people who came to love him.
~~ Linda
What Your Dog is Desperately Trying to Tell You!