Welcome to K9BFF! Thank you for visiting our website and for your interest in rescue and adoption. Through no fault of their own, many dogs find themselves in shelters or with guardians who can no longer care for them. We believe each dog is special and deserves to be cherished and protected. We are dedicated to helping find these loyal companions a loving and permanent home, and a second chance at life.

We hope you will find your new canine best friend here. If we don't have the dog you're looking for, there are other rescue groups with whom we work and recommend (Helpful Info). Please NEVER purchase a pet from the internet or a pet store, as these dogs are born and bred in puppy mills where they live in horrible and unsanitary conditions, and often pass on genetic problems from generation to generation (Why Rescue?).

We also hope you'll find some useful information and answers to many of your questions. Please let us know if we can be of further assistance (Contact Us).

To adopt one of our dogs, the first step is to submit an Adoption Application (Adopt).

Our adoption fee is $250 for most dogs, which covers vet check (and treatment if necessary), age appropriate vaccinations, spay/neuter, heartworm check, microchip, and grooming; all of our dogs are de-wormed, de-flea'd, and come with a collar, leash, and ID tag.

If at any time (even if years have passed), you can no longer care for and keep any animal you've adopted from K9BFF, please contact us and we will take the animal back.

When you adopt a rescue dog, you help to save two lives: the one you bring home and the one who takes its place.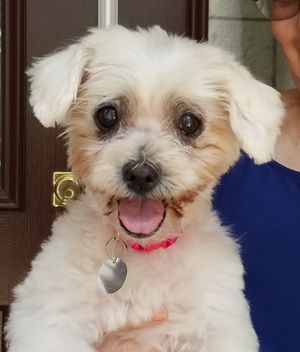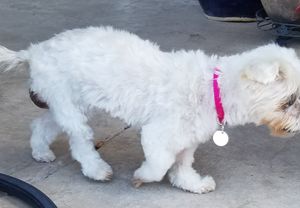 Eclair was scared and fending for herself on the streets (which is not easy when you only weigh 9 lbs soaking wet). She came into the shelter with multiple mammary tumors, and a large tumor in her groin area (see photo) putting a lot of pressure on her internal organs. In spite of all this, she never showed even a smidgen of aggression or bad temper. She immediately became a shelter favorite. The staff named her Eclair (because she's so sweet) and made her the unofficial "greeter" because she was so gentle and friendly to everyone.  
Eclair dreams of having a warm and loving forever home with toys, treats, a comfy bed and yummy food. Unfortunately, the shelter was not able to perform the complex surgery she needed to survive, so they asked us to help.  
In Eclair's first surgery, she was spayed and the benign mammary tumors were removed. But she still needed another surgery to remove the tumor in her groin. The vet said it would have been too much for her if they had tried to do everything all at once. So Eclair had a 2nd surgery, but within a few days it became apparent that a 3rd surgery would be required. 😕 We've already incurred over $1,200 in vet expenses, and the additional costs of Eclair's 3rd surgery and aftercare is unknown at this time (she's still at the vet and on round-the-clock care and pain meds).
The good news is that Eclair's prognosis is excellent: she will live a happy, normal, and pain-free life! And the better news is she already has a wonderful adopter who will give her the loving forever home that she deserves, so Eclair's dreams are very close to coming true -- but we have to get her healthy first. Imagine how great Eclair will feel once she's recovered! And imagine how great you will feel knowing that you helped give her the divine gift of life without pain. We hope that you will find it in your heart to help us make Eclair's dream come true. Whatever you can share will help, and will be greatly appreciated, be it $5, $10, $50, or $500. 
100% of your tax-deductible donation will go toward Eclair's vet expenses.
Credit card or Paypal donations can be made via our website (Donate), or sent directly to the vet (please specify it's for Eclair):
Town Center Animal Hospital
3565 S. Town Center Drive
Las Vegas, NV 89015
(702) 262-1300
What Your Dog is Desperately Trying to Tell You!
Why are rescue adoption fees higher than shelters?

Shelters are government funded. This means that all expenses like vaccines, worming, flea prevention, and spay/neuter are paid for at a low cost by the government. When an animal at a shelter becomes ill, the only outcome is euthanasia. This is to prevent the spread of disease in the shelter. It's less costly to "get rid" of the animal than it is to treat it. The government simply does not allow the funding to treat all of the animals in need.

Rescues, on the other hand, take on the expense at full cost and don't euthanize just because a dog becomes ill. This is why most rescues go under within two years of opening. Rescues would never save an animal from euthanasia at the shelter simply to "put it down" because the cost of treatment was too high. Rescues endure very high medical bills in a very short amount of time. Adoption fees are the only source of income. That is why monetary donations are so very important (and tax-deductible).

Please continue to support your local rescue groups in the fight over abuse, neglect, and the euthanizing of adoptable animals.